Quality / Traceability
Whether you need a fully-traceable part for a subsea manifold at the bottom of the ocean, a rolled or welded cylinder for a pressure vessel in a refinery, a structural component in a crane, or processed steel plate for any other critical application, you can depend on Cyclone Steel to deliver what you asked for – we've been doing it for over 30 years.
How do we do it?
First, Cyclone Steel conducts its operations in compliance with an ISO compatible quality system to ensure products and services meet customer requirements. Our system is built around the following essential elements:
Comprehensive Quality Management System document
Detailed operating procedures and work instructions
Clearly defined management responsibilities
Top quality physical assets dedicated to production
Well‐trained human resources
Contract review process to identify customer requirements
Procedures to qualify vendors and monitor performance
Inspection process for incoming, in‐process, outgoing materials
Full material traceability at any processing stage
Strict inventory control procedures
Process for identifying and handling nonconforming materials
System to measure non‐conformances and document corrective actions
Well-defined procedures for document control and maintenance
Periodic management reviews to evaluate quality system effectiveness
Cyclone's greatest strengths are timely and competitive response, good document control and quality parts. I've been dealing with Cyclone on a first-hand basis and they give me a feeling of quality and ethical work. General Manager Construction, Offshore System Fabricator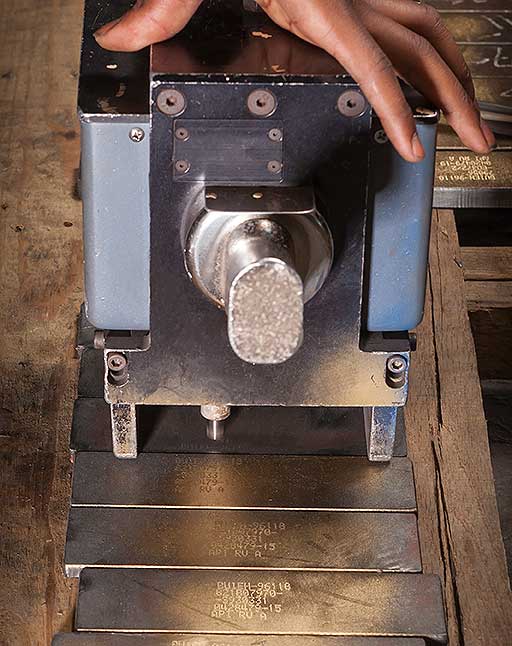 Second, traceability is essential to our business – and yours. Cyclone Steel's robust material data tracking and control system provides every plate with a unique identification number that is tied to each and every part coming from that plate. Material is also color coded by grade for quick shop floor reference. Every steel plate and cut part will be marked with some combination of numbers to identify steel mill, sales order number, material grade, heat number, part number, and other job attributes. Physical identification numbers and corresponding documentation follow each piece throughout the process from start to finish. Cyclone Steel employees know how vital this process is to our customer and make it their priority.